Holiday Hospitality Home Tour
Debbie Hussey, hostess extraordinaire, pastors at The Hope Center, a neighborhood mission, with her husband Bruce. She also works full-time at Operation Hope Neighborhood Ministries, an after school and summer program that tutors, feeds, clothes, and cares for the children in some of the most desperate neighborhoods in Jackson, TN. So it comes as no surprise that generosity and a love for others are behind how she runs her home too. For this year's ASD holiday home tour, Debbie invites us in and shares some of her best advice for creating a peaceful, welcoming home that is uniquely yours.
---
I have been to Debbie's a handful of times. Most of my visits occur at Christmastime when her home has been transformed into a softly glowing holiday wonderland. It's something I look forward to with an almost giddy anticipation.
One of my most recent visits took place on one of those particularly miserably wet and cold gray days in the South that is so characteristic of our winters. The kind of day where the dampness is more cold than the actual temperature and we all do our best not to go anywhere. But I was bound and determined not to let any such nonsense like a little weather keep me from my highly anticipated Christmas visit.
I arrived at Debbie's house for a ladies' Christmas luncheon with my little gift of crackers in tow. When the front door opened, overwhelming warmth and the heavenly mingled sweet and savory smells of Christmas food rushed out and wrapped around me like cloud made up of all my Christmases past, so wonderful that I thought I might cry right there standing on the stoop. As I was ushered in by the soft sounds of women in the kitchen, it would seem a new and different muscle would relax with each step. I hadn't felt this much at home in quite a while.
Ms. Debbie, as most of us call her, is not one for the spotlight, so when she agreed to be featured as our Southern Discourse holiday home this year, I was thrilled. Not only was I excited about a second Christmas visit (be still my little yuletide heart), but I couldn't wait to chat about what makes her home such a unique hallmark of comfortable and inviting hospitality.
Fortunately, the weather was better for my second visit; nonetheless, I was still greeted with warmth and a charming spread of Christmas goodies. Ms. Debbie believes in feeding her guests. She is always on the ready with "just a little something" in the event that "somebody might drop by" as good friends are prone to do.
When asked about her approach to hospitality, she says that it is "simply caring about people and caring about making them really feel at home."
"Hospitality is one of the spiritual gifts," she adds. "When I think about hospitality I think about love. I think about a home. It's all about taking care of and serving others, making them feel warm and welcome, and fostering conversation, laughter, and peace."
I have often heard Ms. Debbie and her daughter talk about 'the hospitality of Jesus.' She explains that Jesus always took care of those around him, met their needs, shared His time, and offered His full attention. "It was His way of demonstrating His Father's love. And if it was important enough for Him to do, then I think it should be on the top of my priority list too."
She recalls that when she was younger she didn't have much of a home but she longed for one, always tending to what she did have. "And now because Christ has given me a home, and it is a home not just a house, I feel the need to share it to the fullest with others. It really does bring me joy."
When asked to give some advice about how to create a home that truly welcomes others along with being a joy to those who live there, she modestly laughs and ponders for a minute. "I would say that it is important to put your efforts into creating warmth, and by warmth, I mean work on creating a comfortable space, not a showroom. The rooms in your home should simply be a backdrop for the living that goes on in them. Your rooms should be touchable and inviting. Your guests should feel enticed to put their feet up and relax."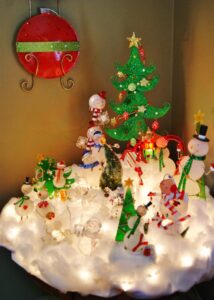 When asked how to start, Debbie answers, "It is important for a woman to find her own gifts when it comes to homemaking. She should ask, 'What am I good at when it comes to my home?' And start there no matter how small. For instance, I love to decorate and cook. That's my thing. There is just something about sitting at table and eating together that creates an intimacy and ease of conversation that I find important.
"Families should eat together," she advises. "Practice the art of passing the food and of setting the table. Bring back Sunday dinners. Start your own traditions and keep them. Make memories."
"When it comes to decorating," she continues, "it is important to collect the things that mean something to you, that bring you joy. Collect things that reflect your personality and your priorities. Trends aren't important because they come and go, but joy and a real connection to things around you is always in style. Personally, I love to collect dishes. I think dishes say a lot about a person's personality."
Ms. Debbie believes in using her collections too. "My dishes don't bring me much joy stored away in some closet. I always keep a table set."
"The key to a good table is to think about your guests and what they would like, then set the table accordingly. It doesn't have to be dressy. Sometimes we just do paper plates and grill out and laugh. It depends on the food and the company."
As a part of her philosophy that nothing is too good to be used, Ms. Debbie is a big believer in making the fancy accessible. "One of my favorite things is taking something that should be fancy and dressing it down so that anyone would feel comfortable using it."
As we were wrapping up our visit, Ms Debbie left me with these final thoughts. "Create a home wherever you are and no matter the circumstances. You can do this by praying over your home, speaking God's Word and Promises over your home, and by choosing peace. Peace really is a choice. It is an atmosphere grounded in Christ and created through prayer.
"When we looked into buying our home 17 years ago, it was a mess. Built in 1940, it was run down and there was junk everywhere. The carpets were ragged and dirty; there were holes in the plaster walls. Our friends kept telling us not to buy this old house. But we did. We've knocked out walls, redone and rearranged. And now it's become our home! And it's not been a blessing just to us, but to others as we continue to open it to guests.
"So, my best advice is 'Don't look for the best. But look for where God places you. Because where God places you is where home and hospitality truly are.'"
Above all, have fervent and unfailing love for one another, because love covers overlooks unkindness and unselfishly seeks the best for others. Be hospitable to one another without complaint. Just as each one of you has received a special gift- a spiritual talent, an ability graciously given by God, employ it in serving one another as good stewards of God's grace. 1 Peter 4:8-10

Save
Save
Save
Save
Save
Save
Save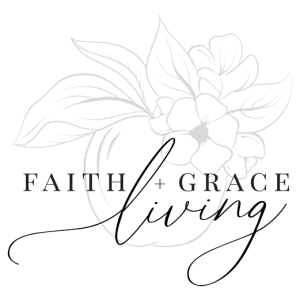 I can't wait to discover more of God's abundant life with you.